Bear With Brothers

Second Place Ribbon 2022 Heard Museum Art Market
Primordial Man & Woman

First Place Ribbon 2022 Heard Museum Art Market
Skilled Hunter

Mountain Lion With Japanese Coral Fox Bundle
Butterfly Maidens

Kingman Turquoise & Mediterranean Coral
What A Hoot!

Elk Antler Owls With Feather Lashes
Mother Earth

With Progeny Necklace
Bear With Brothers
Second Place Ribbon 2022 Heard Museum Art Market
Primordial Man & Woman
First Place Ribbon 2022 Heard Museum Art Market
Skilled Hunter
Mountain Lion With Japanese Coral Fox Bundle
Butterfly Maidens
Kingman Turquoise & Mediterranean Coral
What A Hoot!
Elk Antler Owls With Feather Lashes
Mother Earth
With Progeny Necklace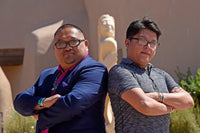 The Faces of Dragonfly's Trail
Troy Sice & Ray Tsalate, founders of Dragonfly's Trail, welcome you to experience an homage to Zuni & Zuni Culture through their Art. 
Photo by Gene Peach
Nacimientos/Nativity
We are currently taking orders for Nativity Sets. Troy's unique Award-Winning, Puebloan inspired Nativity Sets are hand-carved, detailed and inlaid with all natural materials. Sets come in three different sizes, in Human and Bear form. Order your One-of-a-Kind set today, so you can enjoy your very own Nacimiento during the Holidays!
Call for Details: (505) 280-3197)
Restoration & Repair
A Trusted Source for Custom Restoration and Repair for your Zuni Fetish Jewelry & Fetish Carvings
Does your Zuni Fetish have a Loose Bundle?
Is there a chip or missing stone in your favorite Zuni Fetish Necklace?
Does your Pet love your Fetish Collection as much as you do?
We understand that accidents happen, that is why Dragonfly's Trail is proud to offer Custom Restoration and Repair for your One-Of-A-Kind Zuni Carvings.
We fix and repair any and all Zuni Fetish Carvings including Vintage Pieces and those from Private Collections.
For more Information and Quotes on Pricing, please feel free to call, email or text Dragonfly's Trail at:
dragonflys_trail@iCloud.com
(505) 280-3197